4mm Navajo Pearls Necklace. 925 Sterling Silver Real Genuine Navajo Pearls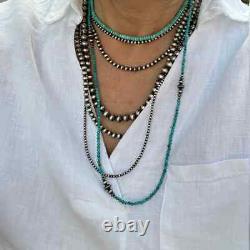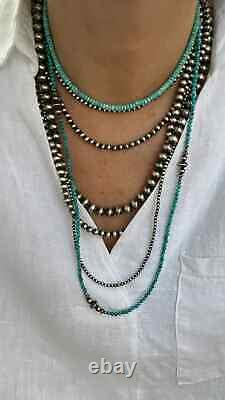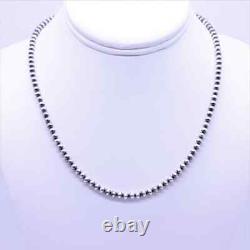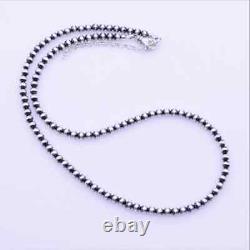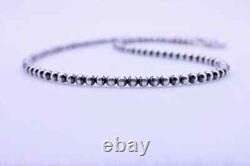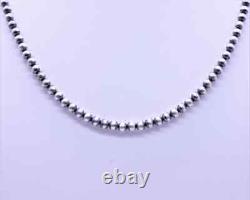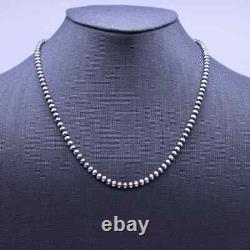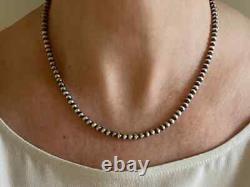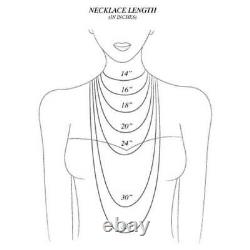 This Beautiful necklace is crafted using 4mm sterling silver Native American style Navajo pearl beads. The overall design results in a well balanced piece of southwestern charm that is worthy of any occasion from casual to formal. Available as a single strand or as a package of necklace sets, please select your choice in the drop down menu. Necklace #1 14 Arizona Turquoise. Necklace #2 14 4mm Navajo Pearls. Necklace #3 18 5mm Navajo Pearls. Necklace #4 20 8mm Navajo Pearls. Necklace #5 22 6mm Navajo Pearls.
Necklace #6 24 3mm Navajo Pearls. Necklace # 7 27 3mm Turquoise & Navajo Pearls.
These beautiful Navajo Pearls are sterling silver beads traditionally made by Native American Navajo (Diné) silversmiths. Native American tribes were introduced to the technique of silversmithing by Spanish explorers in the late 1500's.
They then added this newly found craftsmanship to their traditional methods of bead making, leading to what we continue to admire today as sterling silver Navajo desert pearls. What set the Navajo Pearls apart from other beads is the light oxidized finish to the beads that lends character and depth to the finished piece.
They are often paired with gemstones or mixed with multiple sizes and shapes to create beautiful patterns from simple to complex. Photos taken outside in natural lighting and in a light box.
No filters or color enhancements are added to the photos. The beads are strung on strong 49 micro woven stainless steel beading wire with nylon coating. We use only the finest brightly polished sterling silver findings. The superior quality large lobster claw clasp which is easy to hold and open completes this necklace. We offer this in lengths from a 14" choker up to 28" in length.
Please select your size and finish from the drop down menu. A 2 necklace extender is included, so you can adjust the necklace and wear it at different lengths. Please message me if you would like the necklace without the extender.
Unisex styling, suitable for a man or woman and would make a perfect gift! Metal Findings - sterling silver. Length - custom choice of adjustable chain length. Packaging - comes in gift box with optional personalized note. This necklace is completely handmade and constructed in my studio in Piqua, Ohio USA.
925 Sterling Silver Real Genuine Navajo Pearls Beaded Necklace, Native American Desert Pearls Boho Choker.