Vintage Navajo Sterling GEM Grade BISBEE TURQUOISE SQUASH BLOSSOM NECKLACE 1950s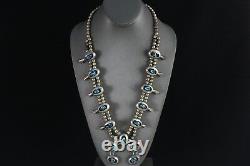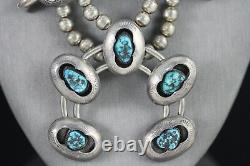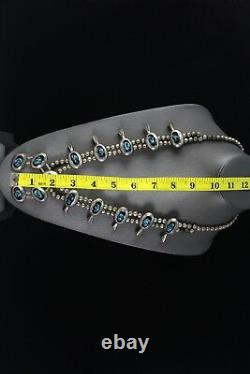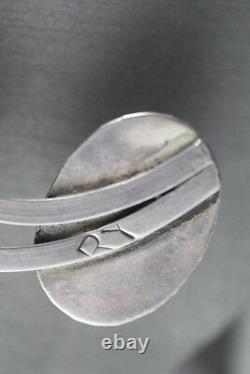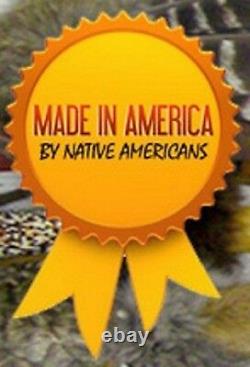 Vintage Navajo Sterling GEM Grade BISBEE TURQUOISE SQUASH BLOSSOM NECKLACE 1950s. Interested in more than one item? Most of our items are Unique One-of-a-Kind and subject to availability. So we do not disappoint you with a possible out of stock item. This is a Incredible Rare Gem Grade Arizona Bisbee Turquoise SQUASH BLOSSOM NECKLACE, Vintage Navajo Old Pawn circa 1950's. A classic squash blossom necklace featuring ten blossoms and a large naja set with top grade GEM Grade Arizona Bisbee TURQUOISE. This Old Pawn Squash Blossom necklace displays gorgeous, free-form, ARIZONA stones. These gems of the southwest exhibit lovely color with a bit of matrix. Old Pawn Squash Blossom Necklace Set. Add this stunning necklace to your jewelry collection for a traditional touch of Native American style from the 1950s! It starts as a typical squash blossom necklace with the double strands of handmade bench beads. On the strand there are 10 shadowbox pieces that feature a High Grade Bisbee Turquoise Nugget in the center and the actual blossoms at the ends. The Naja in the center of the necklace has the same shadowbox design with the Amazing Turquoise nuggets following the curve of the Naja itself.
It is in Excellent Vintage condition with minor scuffing and scratching due to previous use and age, and a light patina. Naja: 2.53 in by 2.56 in. Squash Blossoms: 1.45 in by. Stone: High Grade Arizona Bisbee Nugget. Hallmark: RY (We could not find anything about this hallmark).
The Navajo word for the squash blossom bead means bead that spreads out so it would seem to me that the original intent was design not squash. But what do I know, I wasnt around in 1880 when spread beads first appeared. In about 1880, the tri-petal form that we know as a squash blossom bead appeared.
At first, tri-petal silver beads were simply interspersed with plain beads in a naja necklace. Then stones began to be added to the blossom beads partly to please the maker but mostly to satisfy customer demand. Squash, corn and beans are important foods for the Native American people of the US southwest. They are often used in a symbolic way in jewelry and ceremonies.
Some say the Navajo squash blossom necklace has a connection to southwestern agriculture, other say the the spread petal design is just that, a design, and that is was only after white man asked, what is this, what does it mean did the name squash blossom come to be. Yet others say the Navajo copied a similar Spanish design of the pomegranate. The Naja has its origin with the Moors in Spain.
It is a good luck charm to ward off the evil eye. It was often used on the browband of Moorish Horses. It is thought that it came to Mexico via the Spanish Moors and from there was adopted by the Navajo Indians. The naja is the base pendant of many ornate squash blossom necklaces. Bisbee Turquoise is one of the most beautiful types of Turquoise that has ever been taken out of the ground in North America.
Its striking true blue color ranges are spectacular and the chocolate matrix that the Turquoise is found in, extenuates its beauty. Bisbee Turquoise is some of the finest Arizona Turquoise and there is no Turquoise on earth that is comparable to Bisbee Turquoise, as it has its own unusual characteristics that are unique only to itself. The Bisbee Mine was originally founded in the mid 1870's and by 1975 when it was closed had become the largest and richest mine the world has ever known. Taking out over 8,000,000,000 pounds of copper the mine was given the name "The Copper Queen". The Bisbee Mine also produced nearly 3,000,000 ounces of Gold, 77,000,000 ounces of Silver and billions of pounds of lead and zinc! The Bisbee Mine also produced a variety of outstanding minerals including Malichite, Azurite and of course Turquoise that are by products of the metals and minerals that are native to this Mine. However, mining at Bisbee did not include mining for gemstones, any Turquoise or other gemstone materials were discarded by the mining companies and prohibited to be taken out by the minors due to liability reasons. In the late 1950's, a deposit of Turquoise was found in the Lavendar Pit region of the Bisbee Mine. Most of this Turquoise was hauled off to an area where they dumped their waste and over burdens from the mining project. Individual Minors recognized the beauty of the Bisbee Turquoise and would sneak small amounts of the Turquoise out in their lunch boxes and/or whatever other means they could muster. It was not long after Bisbee Turquoise was discovered in the Mine that it was introduced to the Southwestern Jewelry Industry.
By the early 1960's, Bisbee Turquoise had become the finest Turquoise the market had ever seen and demand for it went through the roof. In 1972, the one and only lease ever given to work the dumps from the Lavendar Pitt was awarded to Mr. Robert Matthews of Durango, Colorado. Bob and his associates worked the dumps hard for approximately two years to recover less than 2,000 pounds of good to excellent quality Bisbee Turquoise.
Due to mining restrictions and the cost of recovering the Bisbee Turquoise from the dumps, mining slowed down and ended by 1980. Only small amounts of Bisbee Turquoise have surfaced since and this has been from Mine Robbers that sneak into the guarded Mine late at night to hunt for bits and pieces of this fine mineral, Bisbee Turquoise! There is very little True Bisbee Turquoise available today and due to its rarity and exceptional beauty it is very valuable, and Bisbee Turquoise remains nearly as rare as hens teeth! An exact date is not available for when the stamp STERLING was first used on Native American jewelry.
Items made in the 1930s would usually not have that stamp nor any other hallmark. A few items made in the 1940s to 1950s might have the STERLING stamp, most notably, those made by Bell Traders during that time period.
Pieces made in the 1950s and 1960s and later often have the STERLING indication. This Necklace is filled with elegance and it gives off a timeless look and feel. It is sure to be a great addition to any collection! This is a Classic PIECE FROM DAYS GONE BY.
Thanks for looking and be sure to check out my store for more selections of authentic Native American jewelry and artifacts! If you like our products, please add me to your.
List or consider subscribing to our. For updates on newly listed items, sales and special promotions! We would be happy to consider reasonable offers.
A HIGHLY COLLECTIBLE PIECE OF JEWELRY AND GOOD INVESTMENT! Compare your own financial investments over the past ten years to investments in pieces of Native American Indian and Mexican art and antiques! We understand the true value and nature of hand crafted Indian art. And, we recognize that it is important to know that the artist is truly a member of a Native American tribe.
So, to ensure you that this is the real deal, a Certificate of Authenticity will be included with this item. I dislike having to do that, so please pay promptly. We are aware of your concerns in regards to the condition of your art work upon arrival.
We use safety and care every step of the way in packing and sending your item to you. These charges are the buyers responsibility. International Buyers are willkommen, bienvenue, ???? Statement of Authenticity: We fell in love with Native American jewelry many years ago and really appreciate the true craftsmanship that goes into the making of a piece of genuine Native American jewelry art! That is why we chose to partner up with some of the oldest and most reputable Trading Posts in the Southwest who deal directly with the Native American artisans to bring you a large selection of authentic Native American products.
These artisans come from the Navajo, Zuni, Hopi and affiliate tribes on the reservations all of which our close to our home and office, so you can be assured that all our Native American products are authentic! Most of our items are One-of-a-Kind and subject to availability. We try to keep our listings up to date, but may occasionally miss one. In some cases, we can have one custom made with a two week lead time.
If you like our products, please add me to your FAVORITES list. This is very important to us. It lets us know that you have received item and are happy with it. As soon as we get feedback, it leaves you feedback in return. We are always adding new items. The item "Vintage Navajo Sterling GEM Grade BISBEE TURQUOISE SQUASH BLOSSOM NECKLACE 1950s" is in sale since Tuesday, November 22, 2016. This item is in the category "Jewelry & Watches\Ethnic, Regional & Tribal\Native American\Necklaces & Pendants". The seller is "elkcreektradingllc" and is located in Kykotsmovi Village, Arizona. This item can be shipped to United States.
Jewelry Type: Necklaces
Metal: Sterling Silver
Metal Purity: .925 STERLING
Main Stone: Turquoise
Tribal Affiliation: NAVAJO
Signed?: Unsigned
Origin: SW USA